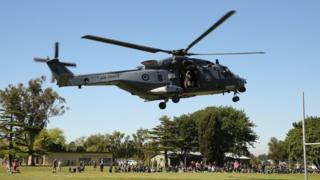 Gale force winds and heavy rain in the South Island of New Zealand are impeding the airlift of hundreds of people still stranded after Monday's powerful earthquake, officials say.
Dozens of helicopters are being drafted in to move residents and tourists from the seaside town of Kaikoura.
It is a whale-watching resort that was hit hard and cut off by the quake.
Hundreds of aftershocks have rocked the area, with major road and rail links still severed.
Two people were killed in the 7.5 magnitude earthquake and billions of dollars of damage was caused.
It is estimated that up to 1,200 tourists are among those stranded by the quake which has been blamed for…