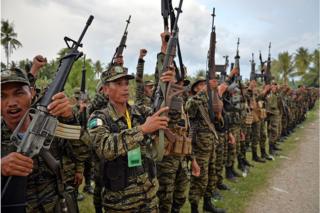 More than 150 inmates have escaped from a southern Philippine prison in an attack by dozens of gunmen which left one guard dead.
Authorities suspect the attackers were linked to Islamist separatist groups.
The Philippines, which is predominantly Catholic, has been battling separatists in the south for decades.
Groups like the Moro Islamic Liberation Front (MILF) and Abu Sayyaf have conducted terror attacks as well as kidnapping tourists for ransom.
The prison break took place early on Wednesday morning at the North Cotabato District Jail near Kidapawan city, on the island of Mindanao.
One inmate was injured.