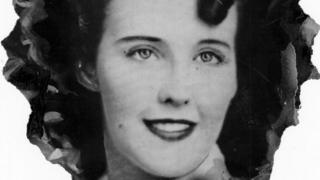 As the 70th anniversary of the Black Dahlia murder approaches the public fascination with Elizabeth Short and her grisly unsolved death hasn't dimmed. James Bartlett takes a look at how Los Angeles remembers the famous murder.
This article contains graphic descriptions.
Few people noticed the dark-haired woman when she was dropped off at the swanky Biltmore Hotel in downtown Los Angeles, but when her torso was found nearly a week later, Elizabeth Short became a household name.
On the morning of 15 January 1947, Betty Bersinger was walking with her young daughter along a barely developed street in the planned neighbourhood of Leimert Park when she saw what she thought was two halves of a tailor's mannequin.
It wasn't.
Short had been cut in two, neatly at the waist, and drained of blood. She had been mutilated, her intestines…