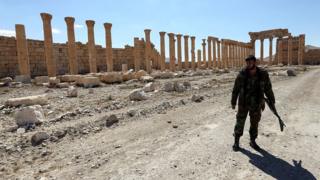 So-called Islamic State militants have beheaded four people and shot eight dead in the Syrian city of Palmyra, a monitoring group says.
Some of the killings took place in a museum yard near the city's Unesco-listed ancient ruins, the Syrian Observatory for Human Rights said.
Four teachers and state employees, four government soldiers and four captured rebels were killed, it added.
IS retook the site and nearby city last month, after being pushed out in March.
IS retakes ancient Syrian city
Syria: Palmyra damage in pictures
LIS video 'shows murders at Palmyra'
A report from a local activist group, the Palmyra Monitor, said some of the killings were carried out in the site's Roman…