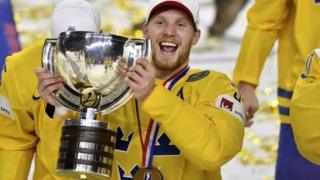 Sweden has won the ice hockey world championship, beating favourites Canada in a dramatic penalty shootout.
The teams were tied at 1-1 after three periods in Cologne, Germany, with Victor Hedman scoring for the Swedes and Canada's Ryan O'Reilly equalising.
The overtime brought no goals, but the Scandinavians then were twice on target in the shootout, while the North Americans again failed to score.
By winning its 10th world title, Sweden dethroned last year's champions.
"It's really big. For Sweden and everything, it's amazing, a dream come true," Swedish defender Jonas Brodin was quoted as saying by the International Ice Hockey Federation.
"It's going to be incredible when we go home. That's why we play, for Sweden, for the people…