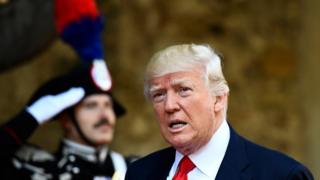 Leaders of the G7 group of rich nations have failed to agree a statement on climate change.
Six of the leaders will instead give US President Donald Trump time to decide if he will continue to implement the Paris accord, sources said.
Mr Trump, who once dismissed global warming as a "hoax", has previously threatened to pull out of the deal aimed at reducing greenhouse emissions.
This is Mr Trump's first G7 summit – during his first foreign trip.
He told his fellow G7 leaders from Britain, Canada, France, Germany, Italy and Japan on Friday that he had not yet decided whether or not to endorse the 2015 deal.
The summit has agreed a statement on fighting terrorism. Leaders were still discussing trade,…