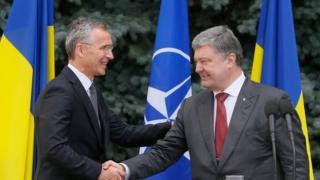 Ukraine's president has asked for discussions to begin on an action plan that could eventually lead to membership of Nato.
Petro Poroshenko said the will of the Ukrainian people was to eventually join the Western military alliance.
Nato Secretary General Jens Stoltenberg said any decision on future membership would be up to the 29 alliance members.
Russia has repeatedly criticised Nato's expansion in eastern Europe and objects to Ukraine becoming a member.
Ukraine faces many obstacles on the road to membership, including the conflict in the east of the country.
Mr Poroshenko was speaking after holding talks with Mr Stoltenberg in the Ukrainian capital Kiev.
"Ukraine has clearly defined its political future…