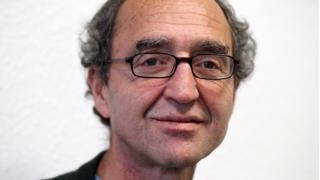 A known critic of Turkey's government who was arrested in Spain has been granted conditional release.
German-Turkish writer Dogan Akhanli has written extensively about human rights in Turkey.
He usually lives in Germany, where his arrest is seen as politically motivated, and the German embassy has said he should not be deported.
Mr Akhanli is being released on condition that he stays in Madrid, his lawyer said.
"The fight was worth it," Ilias Uyar said in a Facebook post after the hearing. "Dogan Akhanli is free."
Mr Akhanli was detained on Saturday in the city of Granada, where he was reportedly on holiday.
The arrest was carried out on an Interpol "red notice" – a request to arrest a wanted individual for…