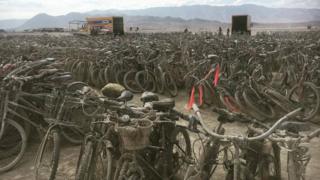 Thousands of Burning Man revellers abandoned their bicycles when they left the desert festival. Will hurricane victims give them a second life and a new purpose?
When the rains from Hurricane Harvey finally stopped, everything Yesenia Rodriguez owned was under 20 feet of water.
"I lost my bike. I lost my car. I lost all my clothes," she says. "I found my baby picture in a tree."
Rodriguez, a real estate agent, went to stay with relatives and is now starting over from scratch.
But in a sprawling city like Houston – where pre-storm, 94% of residents owned a motor vehicle – getting to her job and around town without a car was impossible. An estimated 500,000 to 1m cars were…