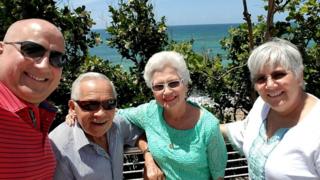 When Hurricane Maria hit Puerto Rico at the weekend, Sofia Abregu filmed it.
"Now the water is coming through the windows. Now the windows are shaking," she narrates in the wobbling mobile phone footage she sent to the BBC.
She spent the night sheltering in the beachfront apartment in the capital San Juan, where she works, but Sofia's mother was not so fortunate. She called her daughter as her street in nearby district Levittown was submerged in a storm surge.
"She thought it was a tsunami. She was screaming and then the phone cut out," Sofia explained. "I did not find out for another eight hours that she was alive."
After coping with the trauma of the…