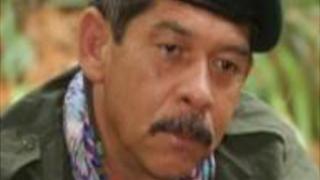 A leader of a dissident Farc rebel group has been killed in the Colombian province of Guaviare, the country's ministry of defence has announced.
The man, who used the alias Euclides Mora, was kicked out of the Farc last December with four other rebel leaders for not agreeing to the terms of the peace agreement signed by the group.
The military said he had been engaging in drug trafficking.
He was killed in an air force operation in the jungle.
President Juan Manuel Santos wrote on Twitter that the killing sent a clear message to any remaining rogue Farc members: "Hand yourselves in or you'll face prison or a grave."