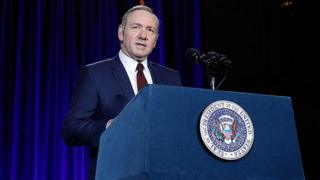 The Netflix series House of Cards has announced it will suspend production following sexual assault allegations against actor Kevin Spacey.
Spacey, who stars in the political drama, has been accused of making sexual advances to a 14-year-old boy.
The show had already said it would end after this season, but now say they will permanently "suspend production".
The Old Vic theatre in London where Spacey worked for 11 years say they are "deeply dismayed" by the allegations.
The 200-year-old theatre has set up a confidential complaints process for anyone connected to the Old Vic to come forward.
The Old Vic said in a statement: "We aim to foster a safe and supportive environment without prejudice, harassment or…