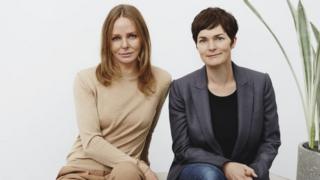 Stella McCartney is calling for radical changes to the "incredibly wasteful" fashion industry.
The designer is backing a report by the Ellen MacArthur Foundation which claims half of High Street fashion is disposed of within a year.
It also says the amount of clothing bought has doubled in 15 years, but the number of times an item is worn has fallen by 20%.
The report is backed by industry giants including H&M and Nike.
"Today's textile industry is built on an outdated linear, take-make-dispose model and is hugely wasteful and polluting," said Dame Ellen MacArthur, a round-the-world sailor and environmental campaigner.
The report by her foundation says that 50% of the clothes sent for landfill in the UK could be recycled.
Other environmental effects…