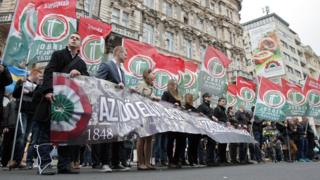 Hungarian prosecutors have charged one of the country's members of the European Parliament with spying for Russia.
Bela Kovacs, 57, from the nationalist Jobbik party, has denied the charged.
A Hungarian inquiry began in 2015 after the European Parliament lifted Mr Kovacs' immunity.
Prime Minister Viktor Orban, leader of the right-wing Fidesz party, has warm relations with Russian President Vladimir Putin.
A Fidesz party spokesman said the charges were a "serious European-level affair" against "a Jobbik politician".
Jobbik said it "welcomed" the case after it had been "dragged out for three-and-a-half years by the Fidesz state machinery".
Since Mr Orban's re-election in 2014, Jobbik's popularity has grown. Opinions polls…