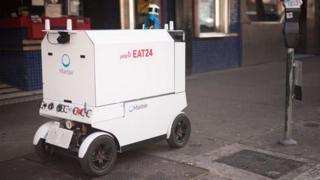 San Francisco officials have voted to restrict where delivery robots can go in the city, in a blow for the burgeoning industry.
Start-ups will have to get permits to use such bots, which will be restricted to less crowded urban areas.
Opponents are concerned about the safety of pedestrians, particularly elderly people and children.
Walk San Francisco, a group that campaigns for pedestrian safety, wanted a complete ban.
A range of companies have begun trialling small robots that can deliver food and other goods.
They use sensors and lasers in a similar way to self-driving cars in order to navigate their routes.
Robotics company Marble – which describes its machines…