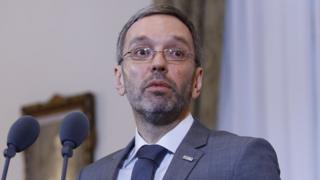 Austria's far-right interior minister has caused outrage by using a term associated with Nazi death camps to say asylum seekers should be concentrated in one place.
Herbert Kickl from the Austrian Freedom Party (FPÖ) rejected accusations he chose the expression as a provocation.
Vienna's deputy mayor said Mr Kickl had gone too far.
Maria Vassilakou said the language of Nazism could not be allowed to creep into people's lives.
Mr Kickl said he wanted "services centres and infrastructure that would allow the authorities to concentrate asylum seekers in one place".
He has promised to implement a very strict asylum policy.
Steffi Krisper of the liberal Neos party said it looked "like a deliberate provocation which is…