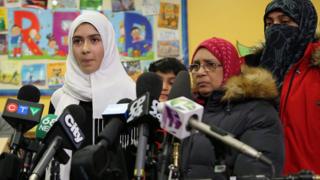 Canadian police are investigating a possible hate crime after a man tried to cut the hijab off a young girl.
Khawlah Noman, 11, was walking to school with her brother in Toronto when they said a man came up behind her with scissors.
Miss Noman said she screamed and her assailant ran, only to return, pull off her hood and cut her hijab.
Police describe the attacker as Asian, 20-30 years old, between 5ft 7in and 5ft 8in, with a thin build.
The siblings said he had black hair with straight bangs to the eyebrows, a thin moustache and black prescription glasses.
He was described as wearing a black hooded sweater with the hood up, black pants and brown gloves.
Khawlah…