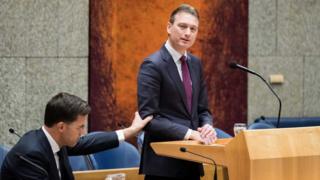 The Dutch foreign minister has stepped down on Tuesday after admitting he lied about being in a meeting with Russian President Vladimir Putin.
Halbe Zijlstra announced his decision tearfully in parliament, after MPs had summoned him to explain himself.
During his campaign for the March 2017 election, Mr Zijlstra claimed he had personally heard Mr Putin speak of creating a "Greater Russia" in 2006.
The Dutch minister was just hours away from an official trip to Moscow.
"I see no other option today than to hand in my resignation to his…