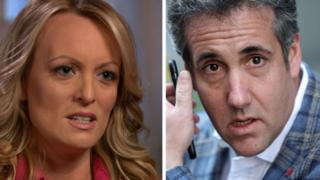 An adult film star who says she was paid to keep quiet about an affair with US President Donald Trump is expected to attend a hearing for his lawyer.
Michael Cohen, the president's long-time personal attorney, is in court on Monday to argue that documents seized in an FBI raid be returned to him.
Stormy Daniels, who Mr Cohen admitted to paying $130,000 (£91,000) in 2016, also plans to attend, her lawyer says.
On Sunday, Mr Trump's lawyers asked a judge to let him preview the files.
Mr Cohen has been…