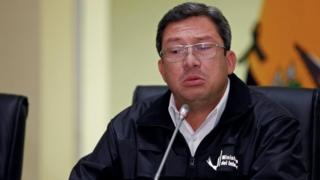 Ecuador's Interior Minister César Navas says the government has been sent a video showing a couple who have been kidnapped by members of a dissident Colombian rebel group.
The video comes just days after the government received confirmation that two kidnapped journalists and their driver were killed by the same group.
In the recording, the couple ask President Lenín Moreno for help.
Neither the nationality nor the names of the couple are known.
Growing outrage
The man and the woman, who have ropes around their necks and whose hands are tied, can be seen…