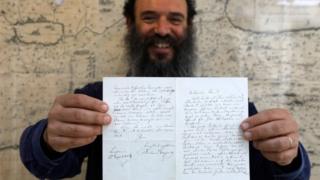 A letter written by Hitler's favourite composer Richard Wagner warning about "corrosive" Jewish influence on culture is to be auctioned in Jerusalem.
In the April 1869 letter, the anti-Semitic composer tells French philosopher Edouard Schuré that the French know "very little" about Jews.
Wagner's work contains anti-Semitic and misogynist ideas as well as ideas of racial purity.
His music is not banned in Israel but is not played due to public opposition.
The letter is to go under the hammer at 19:00 local time (16:00…