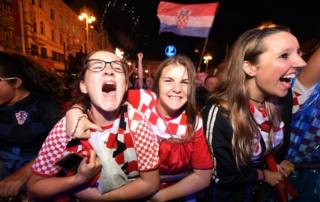 Croatia is jubilant.
Right before the end of the game, a young man in a red and white Croatia football shirt rushed up to me at the fan zone in central Zagreb.
"If we win, I'm going to jump into that fountain," he said.
Seconds later, as huge victory cheers filled the square, he plunged in, followed by dozens of others, shouting and splashing with joy.
People set off fireworks and flares.
"England is going home – and we are going to the final!" shouted a girl with red and white checks painted on her face. "We are such a small country, but we…