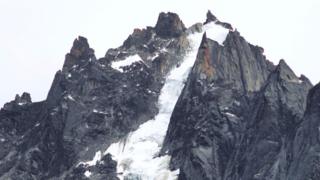 An Italian climber has been found dead on Mont Blanc, one of a party of three who attempted to climb to the summit, rescue workers say.
Authorities recovered Luca Lombardini, 31, on Friday, three days after the trio went missing.
An official speculated that his fiancée and brother were likely to be buried beneath ice and rocks nearby.
France restricted access to Europe's highest peak last month because of safety concerns.
The decree stipulated only climbers with a booking at the high-altitude shelter known as the Gouter were free to head for the…