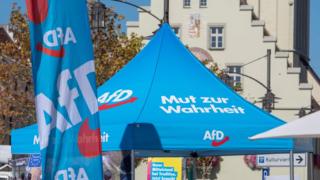 German justice minister Katarina Barley has sharply condemned an online scheme launched by the far-right AfD party to get schoolchildren to inform on teachers who are politically partial.
The far-right party entered parliament for the first time this year, becoming the biggest opposition party.
Its informant site started in Hamburg and is likely to be launched elsewhere.
Ms Barley said it was "a method of dictators" and one union leader likened it to a "tool from the Middle Ages".
Comparisons have also been drawn with spying practices by the Nazis in…