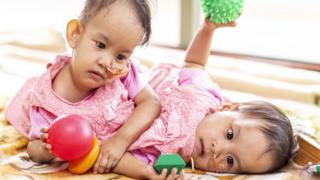 Surgeons in Australia have begun a complex operation to separate Bhutanese conjoined twins.
The 15-month-old girls, Nima and Dawa Pelden, are joined at the torso and share a liver and possibly a bowel, doctors say.
They were brought to Melbourne with their mother to have surgery in October, but it was postponed so the girls could improve their nutrition.
Doctors said they were confident the twins were now ready for the operation.
About 18 specialists in two teams, one for each girl, are taking part in the procedure at Melbourne's Royal Children's Hospital. The surgery is expected to last at least…