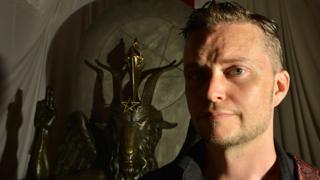 The Satanic Temple is suing the makers of TV series The Chilling Adventures of Sabrina for $50 million (£38m) over a statue.
Netflix and Warner Bros allegedly copied the group's statue of the goat deity Baphomet in the programme.
Both production companies have declined to comment on the law suit.
Satanic Temple does not worship Satan, but instead seeks "to encourage benevolence and empathy among all people".
Their lawsuit, filed on Thursday in New York, claims an icon similar to their own appears in four episodes of the series.
Lucien…