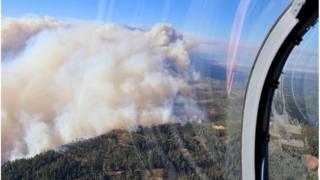 Thousands of residents are evacuating Northern California as an uncontained, fast-moving wildfire approaches several towns in the Sierra foothills.
The Camp Fire, which started early on Thursday near Camp Creek, has been fuelled by strong winds and dry forest.
Neighbourhoods, schools and hospitals have been evacuated while some residents in the town of Paradise were trapped by the flames, officials say.
So far there have been no reported deaths due to the blaze.
As of Thursday afternoon, local time, the Camp Fire has burned through 8,000 acres of forest and is 0%…