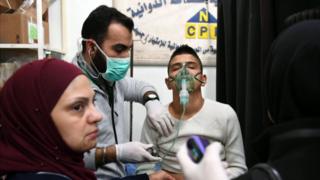 Russia has carried out air strikes against Syrian rebels it accuses of launching a chemical attack on the government-held city of Aleppo.
Both Syria and its Russian allies say shells carrying toxic gas injured about 100 people late on Saturday.
State media showed images of Aleppo residents being treated in hospital as they struggled to breathe.
The rebels deny carrying out a chemical strike and say the claims are a pretext for an attack on opposition-held areas.
Parts of the Aleppo region, as well as the neighbouring provinces of Hama and Idlib, are controlled by…