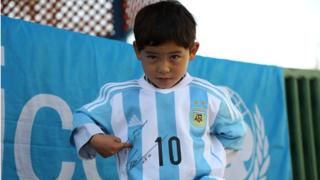 A young Afghan boy who was made famous online for his devotion to footballer Lionel Messi has been forced to flee his home for the second time.
Murtaza Ahmadi, now aged seven, went viral in 2016 after being photographed wearing a homemade Messi shirt, fashioned out of a plastic bag.
He later met his hero in Qatar.
His family say they have now abandoned their home in Afghanistan, after receiving threats from the Taliban.
They were living in the south-eastern Ghazni province – which militants have been targeting – and have escaped…