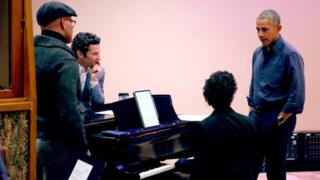 Former US President Barack Obama has lent his voice to a new version of a song from the hit musical Hamilton.
The show's creator Lin-Manuel Miranda has released monthly remixes of songs – or "Hamildrops" – since December 2017.
In what has been labelled "the final Hamildrop", Mr Obama performs George Washington's farewell address from second act number One Last Time.
He is accompanied by Chris Jackson, who starred as Washington in the original Broadway cast.
Six-time Grammy Award winner…