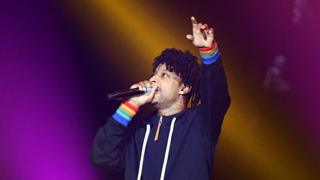 Atlanta rapper 21 Savage has been arrested by immigration officials who say he is actually from the UK, reports say.
The rapper, Shayaa Bin Abraham-Joseph, came to the US in July 2005 aged 12 and failed to leave when his visa expired a year later, officials said.
An Immigration and Customs Enforcement (ICE) spokesman said he was being held for removal proceedings.
The 26-year-old's Wikipedia page says he is from Atlanta.
It says he grew up around criminality, dropped out of school and began to rap after the death of a friend.
A CNN report quoted an ICE spokesman as saying: "His whole public persona is false".