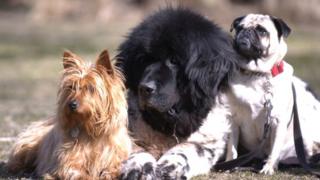 The mayor of a town in northern France has issued a ban on excessive dog barking in a bid to curb canine noise pollution.
From Monday, dog owners in Feuquières face a €68 (£60; $77) fine for "prolonged or repeated barking".
Mayor Jean-Pierre Estienne says the ban is in response to dogs "barking day and night" and creating "an unbearable situation" in the village.
The decree has been criticised by animal rights activists.
"The aim is not to ban dogs and we won't be fining people for the slightest hint of a yap," Mr Estienne…