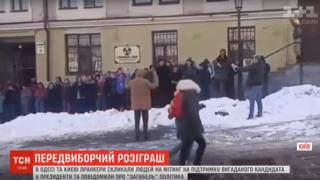 A Ukrainian prankster thought it would be a laugh to see how many people would turn up for a fake election rally on the promise of cash, and was surprised by the scale of the response.
Oleksiy Utkin used social media to offer 1,000 hryvnyas (£28; $37) of "easy money" to anyone willing to turn out in freezing conditions for three hours in support of Serhiy Filatov's bid to become president of Ukraine.
They would get a bit more if they brought a friend, 1+1 TV reports.
But the catch was that there was no candidate Filatov.
More than 200 people…