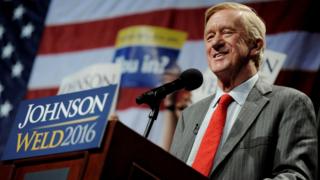 US President Donald Trump is facing a longshot challenge from within his own party ahead of next year's White House election.
Former Massachusetts Governor Bill Weld has become the first Republican to challenge Mr Trump in 2020.
Mr Weld, 73, has released a campaign video contrasting his style with the current president's.
But he faces an uphill battle to take over a Republican party that has been refashioned in Mr Trump's image.
Mr Weld was governor of Massachusetts from 1991-97 after serving in the justice department under President Ronald Reagan.
He was…