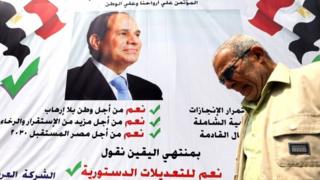 Walking across Cairo, you can't miss the huge banners calling on Egyptians to support constitutional amendments that would keep President Abdul Fattah al-Sisi in power until 2030.
Egyptians are now voting on the proposed changes, a few days after they were approved by a sweeping majority inside parliament.
"Say yes to stability and security," reads one banner in central Cairo. The new amendments will extend the presidential term from four to six years, and the president can only be re-elected once.
But Mr Sisi is being given special treatment.
Not only…