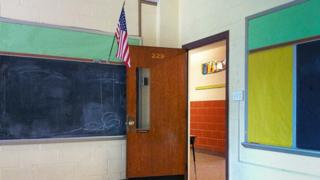 Two teenage girls have been arrested in the state of Florida for allegedly planning to murder nine people, US media report.
The pair from Avon Park Middle School, both aged 14, were arrested on Wednesday after a teacher found a folder detailing their alleged plans.
In eight sheets of notes, the girls allegedly laid out plans to obtain guns and move and dispose of the bodies.
They are both being held in custody, pending a trial hearing.
Each suspect faces nine counts of conspiracy to commit murder and three counts of conspiracy to commit kidnapping.
The teacher reportedly noticed the girls acting "hysterical" whilst…