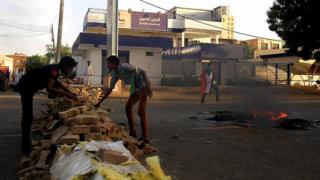 Sudan's military rulers have suspended talks on moving towards civilian government until protesters clear roadblocks in the capital Khartoum, opposition leaders say.
An opposition alliance said the Transitional Military Council (TMC) was demanding barricades be removed.
The setback comes hours after the TMC and the opposition agreed a three-year transition period to civilian rule.
Shots were fired on Wednesday as soldiers tried to clear barricades.
Protesters in Khartoum said at least nine people were wounded, but that figure could not be…