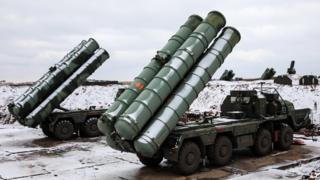 Turkey's President Erdogan says he hopes a Russian missile system that Washington sees as a threat to US jets will be delivered in July.
The US had said Turkey could not have both the S-400 anti-aircraft defence system and US F-35 fighter jets.
But Mr Erdogan said Turkey would hold to account anyone who excluded Turkey from the F-35 programme.
Nato member Turkey has signed up to buying 100 F-35s and has invested heavily in the F-35 programme.
Turkish companies produce 937 of the plane's parts.
Mr Erdogan said he hoped to resolve the situation with the US through phone…